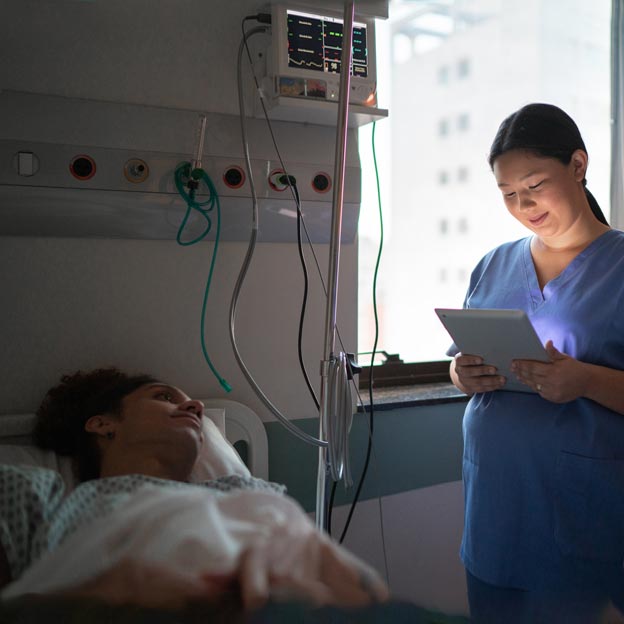 343,572
Number of Rounds Completed
30%
CAUTI Harm Rate Reduction
51%
CLABSI Harm Rate Reduction
28%
PSI-12 Postoperative PE/DVT Harm Rate Reduction
Deliver more personal, intelligent and timely care
Get Started
Case Study
Client:
923-Bed Medical Campus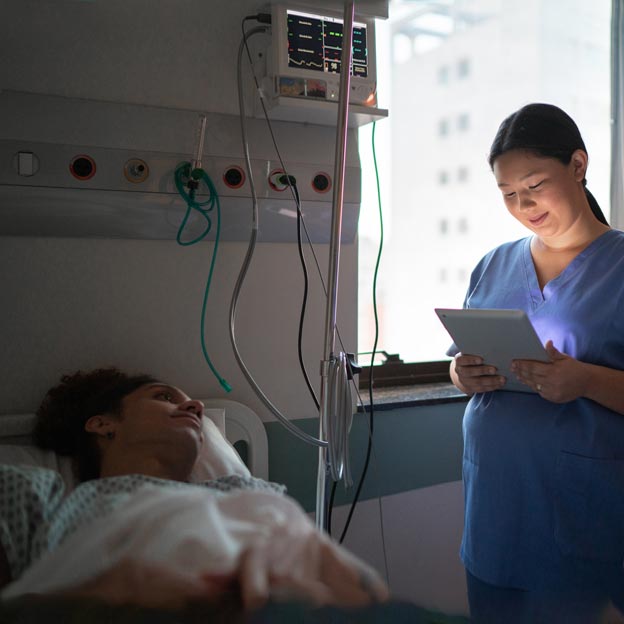 Reducing Harm Rates through Hardwiring Purposeful Rounding
343,572
Number of Rounds Completed
30%
CAUTI Harm Rate Reduction
51%
CLABSI Harm Rate Reduction
28%
PSI-12 Postoperative PE/DVT Harm Rate Reduction
As the only level one trauma center in Northern Virginia, this top academic medical center is committed to the pursuit of excellence and high reliability by maintaining an environment that puts the patient first and drives improvements that benefit patients in very tangible ways.
CHALLENGE
This health system created a strong culture of rounding exhibited by leadership across the organization. However, the process of using pen and paper to conduct rounds did not provide access to real-time data, making it hard to close the loop on issues effectively. With the strong focus on safety and commitment to innovation, digitizing rounds, as well as quality and safety audits, became a priority.
SOLUTION
In 2017, this health system implemented CipherHealth's rounding solution, CipherRounds. After the selection and implementation of the application in all four hospitals on the medical campus, the nurse leaders began "360-degree" rounds which included CAUTI bundle, CLABSI bundle and SCD safety questions to their nurse leader rounding process. By integrating assessment of safety bundles into the nurse leaders' workflow, the culture of safety is at the forefront of care. To supplement the cultural change, the adoption of CipherRounds for the "360-degree" rounds provided safety benefits, such as visual flags for central lines and Foley catheters, streamlined process for bundle fall out documentation and in-depth reports that helped to drive performance improvement.
RESULTS
Between 2017 and 2018, this health system demonstrated a decrease in the number of documented CAUTI, CLABSI and PSI-12, PE/DVT events; exceeding the yearly reduction goal in all three areas. Nurse leaders achieved an overall 37% reduction in total "Harm Rates" in CAUTI (30%), CLABSI (51%) and VTE (28%) across the medical campus. This academic medical center has been awarded an 'A' from The Leapfrog Group's Fall 2018 Safety Grade and holds a Five-Star Rating from CMS for Quality and Safety.
2017 vs 2018 Harm Events/ Rates
PROFILE: 923-Bed Medical Campus, PRODUCT: Patient Rounds, PROGRAM: Nurse Leader Rounding, DATA PERIOD: Jan 2017 – Dec 2018
Deliver more personal, intelligent and timely care
Get Started